Air Filter Replacement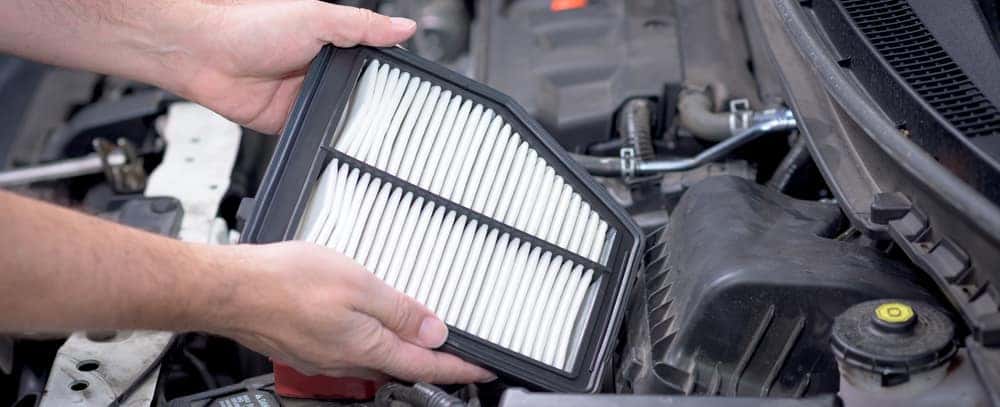 Help enhance your vehicle's continued stellar performance with an air filter replacement. In order for your engine to run effectively, it needs proper airflow and minimal debris both of which are aided by a properly working air filter.
The service center at Arrigo Chrysler Dodge Jeep Ram of Fort Pierce is happy to provide our drivers with professional service to keep them on the road for miles to come.
How Do I Know If I Need a New Air Filter?
Your air filter acts as a barrier between your vehicle's engine and potential debris. A properly working air filter will contribute to engine performance, properly working climate controls, and uncontaminated air flow throughout your vehicle.
Here are some signs to be on the lookout for, which will indicate your air filter is ready to be replaced.
Irregular engine noises: If your engine is not receiving proper air flow or is being contaminated with debris it will likely make popping, gurgling or clanking noises as it works extra hard to get the proper power it needs.
Notable changes in efficiency: The lack of proper airflow will cause the engine to work harder. This will have your vehicle consuming more fuel and not able to achieve its highest level of power.
Black smoke: Excess fuel that can not be used due to lack of air flow will be released from the vehicle in the form of black smoke.
If you notice any of these signs in your vehicle, we encourage you to check your air filter. A discolored air filter is another indicator it is not performing correctly. When the time comes, the team at Arrigo Chrysler Dodge Jeep Ram of Fort Pierce will provide you with top level service.
Schedule Air Filter Replacement in Fort Pierce
Your safety is our top priority at the service center at Arrigo Chrysler Dodge Jeep Ram of Fort Pierce. Easily schedule an appointment online and we will get your vehicle back to its best shape. With any further questions do not hesitate to contact us online.